รายละเอียด
Features:
1. One of the most powerful thrower flashlight on the market.
2. Adopts latest CREE XHP35 HI LED with a lifespan of 20 years.
3. Maximum output reaches 2550 lumens and super long distance of 1420 meters.
4. Classical Manker interface gives different output levels.
5. Lock-out function help to avoid accsidental turned on.
6. Engineering Mode:Modify one comfortable moonlight you like for many possible.
7. Swtich button, solid and more beautiful, retained Manker classical dragon breath function.
8. Robust body with a stainless steel bezel make MK35 can be used for security popurse
9. An ideal flashlight for search & rescue, hunting and law-enforcement etc.
Specification:
Emitter: Cree XHP35 HI LED (CW and NW for your choices)
Maximum output: 2550 lumens for CW version (NW version output is about 20% less than CW)
Maximum beam intensity: 504100cd
Maximum beam distance: 1420 meteres
Working voltage: 11.2v – 16.8v (Overdischarge protection)
Driver: Most efficiency constant current circuit
Waterproof Standard: IPX-8 (under water 2meters)
Impact resistance: 1.5meters
Tail stand
Material: Aircraft-grad aluminum body
Surface treatment: Premium Type III hard-anodized antiabrasive finish
Lens: Toughened ultra-clear glass lens with anti-reflective coating
Dimensions: 188mm x 86mm (length x Head diameter)
Weight: 675 gram (without battery)
Accessories: O-ring *1, Lanyard *1, User manual *1, Holster *1
Brightness levels and runtime:
– Moonlight: 0.1-5 lumens 1500 hours,
– Low: 47 lumes 76 hours,
– Medium 1: 136 lumens 21 hours,
– Medium 2: 700 lumens 7 hours,
– High: 1600 lumens 2.5 hours ,
– Turbo: 2550 lumens (2550lumens last on 15 minutes than stepdown to 1600lumens) 2.5 hours,
– Strobe: 2550 lumens
Operation: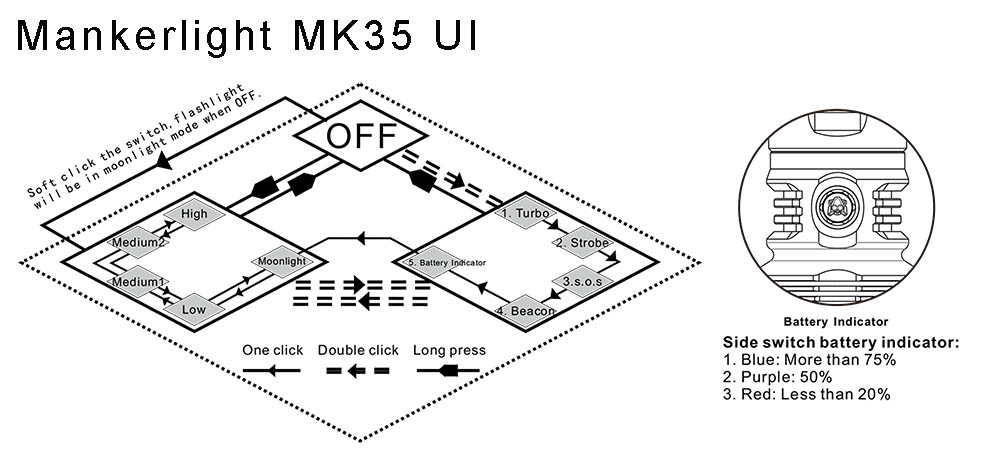 1. When the flashlight is off, one click, access to moonlight mode (left part of the figure), one click to circle: moonlight – low -medium 1 – medium 2 -high. Long press for off.
2. When the flashlight is off, longg press to access to the mode you last use as in left part of the figure (memory function), one click for circle. Long press for off.
3. When the flashlight is off, double click access to Turbo, one click for circle. Long press for off.
4. When the flashlight is on, double click to switch between the two groups (left and right part of the fiture)
Lock out:
One click – Double – Triple from any mode to lock out the flashlight (Only the battery indicator works when lock out)
Engineering Mode (Choose output level for Moonlight mode):
Long press for off and still hold on, the side button battery indicator will turn on and then quick click for 4 times to get access to engineering mode. One click to check different level and long press to make your final choice.
Manker MK35 CW Version reviews:
YouTube Video: https://youtu.be/NTOvffLW_94
Forum: http://budgetlightforum.com/node/52343
Forum: http://candlepowerforums.com/vb/showthread.php?430037-Manker-MK35-Engineering-Prototype-(XHP-35-HI-4-x-18650)-In-depth-Review
Manker MK35 NW version Reviews:
YouTube Video: https://youtu.be/elKTPy3nha4
Flashlight Review Blog: http://www.flashlight.link/?p=228